The Koch family chapel
Starting at the ruins of the Pirita convent, we cross the river. The first wooden bridge was built in 1914, before that the river could be crossed only on a raft. The reinforced concrete bridge was completed only in 1936.
The journey continues along the left bank of the Pirita river. We walk upstream, the path running along the bank between the river and the cycle track. A walk on the right bank of the Pirita river is also beautiful; here the first sight is the Botanic Garden.

The surroundings of Tallinn had plenty of burghers' summer houses as early as the 17th century, together with gardens and various auxiliary buildings – they were called summer mansions. The lands stretched as far as the Lükati bridge. In the 18th century the Tallinn town council rented the land on the left bank to businessman Joachim Christian Koch (i.e. the land was rented out for an indefinite period of time together with building rights, the user having to pay an annual land tax). In 1795, an even bigger area, on the high banks of the Pirita river. was added to it.

In 1866, the second Baltic-German song festival with participants from all over the Baltic area and even from St Petersburg, was held in Tallinn. It lasted about a week, and on the final day, a competition was organised in the park of the Koch family summer mansion in Pirita-Kose. People arrived rowing along the river in decorated boats or walking by the riverbank with fluttering flags. One Estonian choir took part as well – a mixed choir from Jüri parish, conducted by G. Kraemann. The choir allegedly sang well beyond expectations.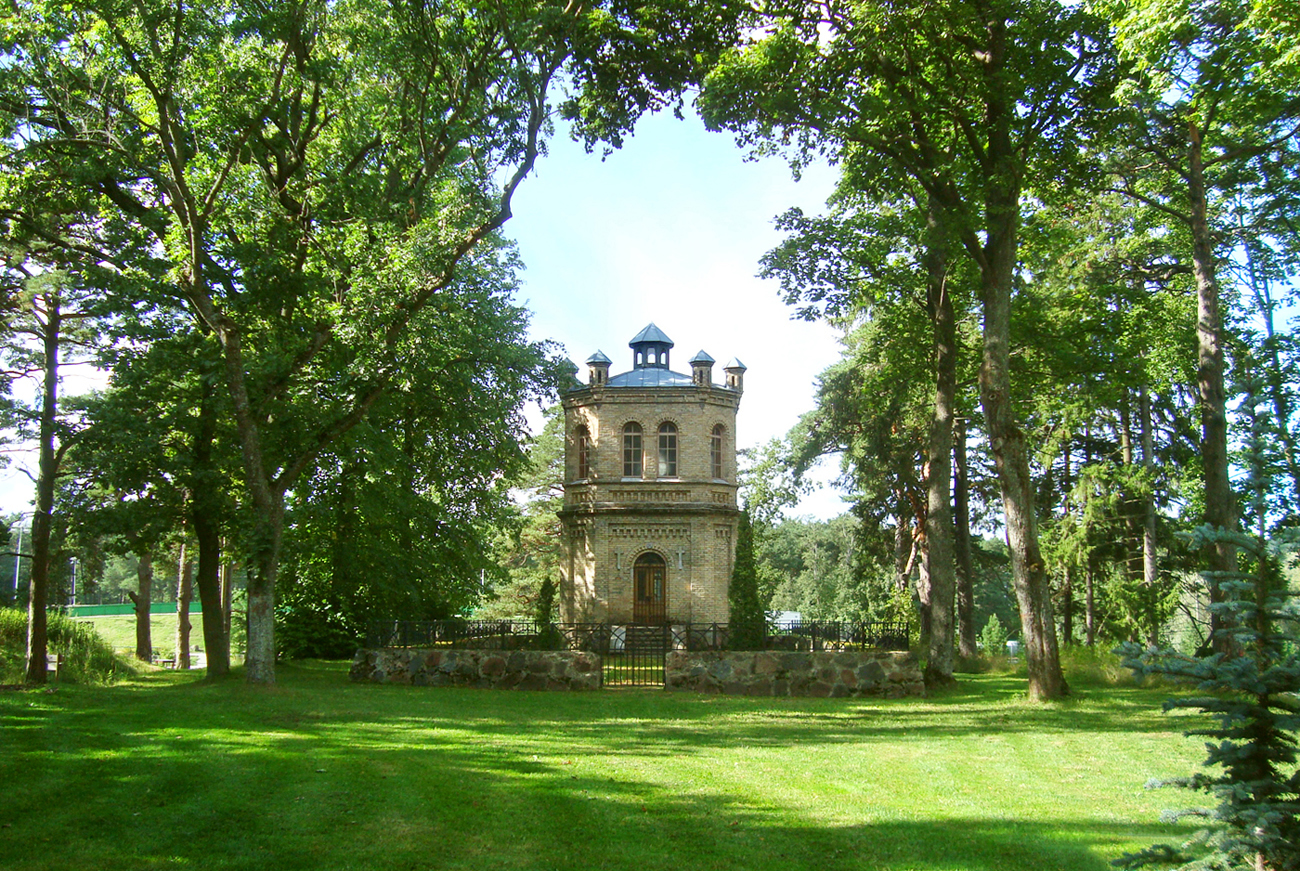 THE CHAPEL AND CEMETERY OF THE KOCH FAMILY
The chapel was established by the Koch merchant family and was completed in 1874. It contained August Weizenberg's marble sculptures "Christ", "Motherly Love", "Love of a Child", "Faith and Hope", "Immortality" and Andreas Koch's portrait bust. The graves are located on both sides of the chapel entrance.
In 1940 the Koch family resettled in Germany, following the Soviet annexation of Estonia and handed the chapel over to the People's Commissariat of Education. In 1941 the chapel was used as a Soviet artillery fire control centre. The two-storey historicist chapel was totally looted in 1940–1960. The sculptures were partially destroyed, although some made it to the Art Museum.

Today, the chapel and the new Pirita cemetery lie near the cycle track and tennis courts. On the initiative of the Pirita Velodrome, the chapel was restored, supported by the Culture and Heritage Department, the Tallinn and National Heritage Board, descendants of the Koch family and the Velodrome. The roofless chapel was restored by the the project of architect T. Linna in 1999–2003.

Lagle Parek, Mare Kask. 2015.


http://register.muinas.ee/public.php?menuID=monument&action=view&id=1193
http://tallinncity.postimees.ee/1794415/pirita-ajalugu-rikastavad-endised-kalmistud-ja-kabelid


Sources
http://register.muinas.ee/public.php?menuID=monument&action=view&id=1193
http://tallinncity.postimees.ee/1794415/pirita-ajalugu-rikastavad-endised-kalmistud-ja-kabelid
Audio: Garmen Tabor