Puutlipalu bunker battle
Up until 1953, eight forest brothers (guerrillas), five men and three women, were hiding in a bunker in the forest near Puutli village. On 29 March 1953, the KGB organised a raid, which lasted nearly 3 hours as the forest brothers refused to surrender. Richard Vähi, Karl Kaur, August Kuus, August Kurra, Leida Grünthal, Endel Leimann, Lehte-Kai Ojamäe and Ilse Vähi all died. Those who were wounded killed themselves with grenades so as not to fall in the hands of the enemy. The KGB losses, however, were much bigger: 20 killed or wounded. Vähi and Kuus had also taken part in the Saika bunker battle on 7 March 1951.
After the battle the KGB burnt down the bunker, the forest brothers were identified and later buried at the edge of a swamp near Ristimäe forest.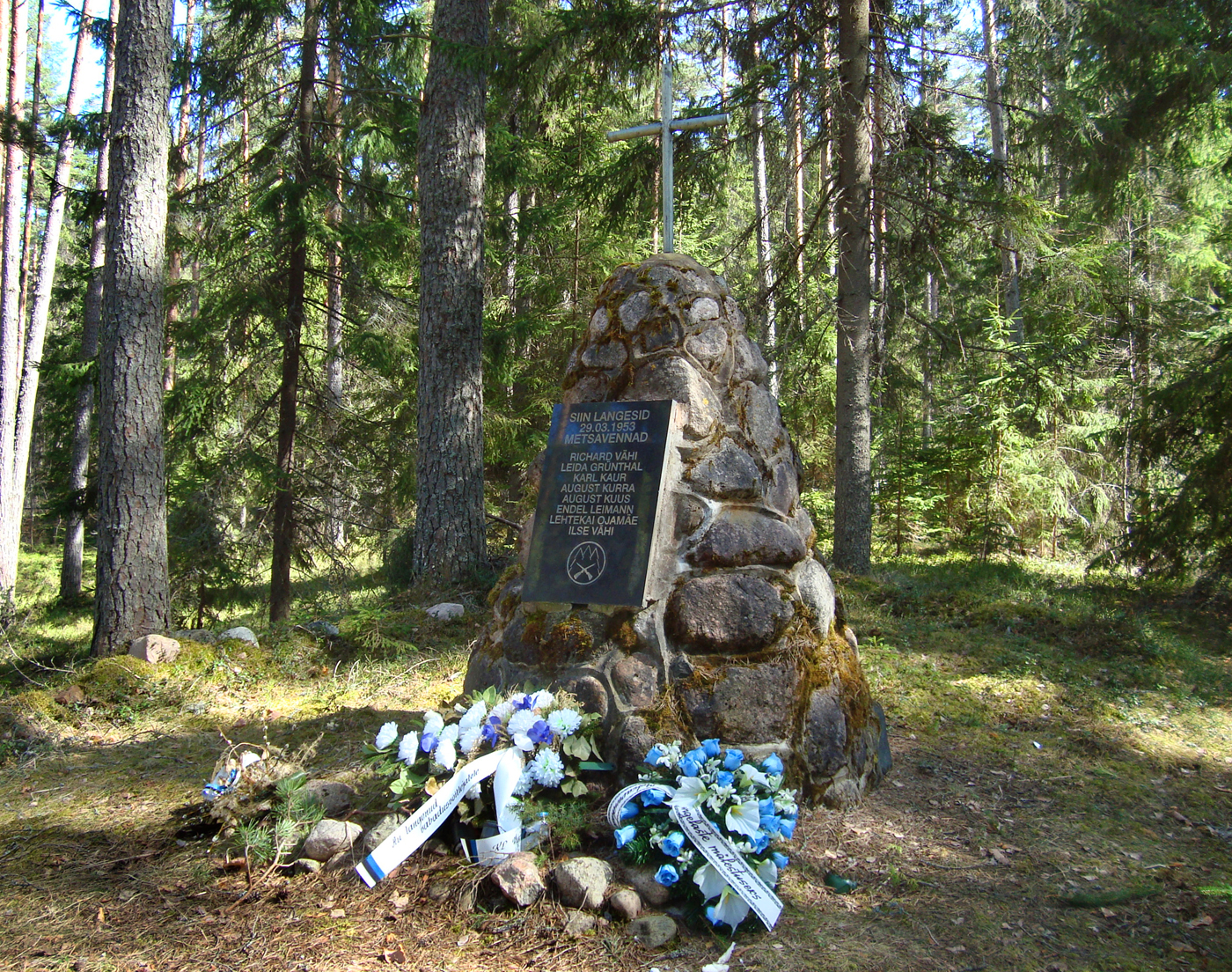 A monument has been erected nearby to the forest brothers in this bunker, and every year the Defence League organises a commemorative event there.

Lagle Parek
Sources
Imeline Ajalugu. Metsavennad (eriväljaanne), 2019
http://et.wikipedia.org/wiki/Puutlipalu_lahing
https://www.err.ee/330056/legendaarse-puutlipalu-lahingu-moistatus-lahendati-60-aastat-hiljem
https://www.kaitseliit.ee/et/vastseliinas-sangitatakse-mulda-enamlaste-poolt-morvatud-metsavennad
http://www.eestikirik.ee/puhitsetud-mulda/
https://metsavennad.ee/misso/sissejuhatus
Audio: Külli Teetamm