Puutli village and church
Puutli village is located between a hilly forest landscape and sandy fields in Vastseliina rural municipality in Võru County. The forests stretch across Piusa to the Russian border. On 1 January 2004, the village had 18 inhabitants. now 21.
In the 1920s, nine Russian families from Irboska settled here; they had become Estonian citizens after the War of Independence. They bought a few farms, divided them among themselves, and settled there properly. Children went to Loosi school to learn the official language of the country. Life improved, and people decided to build their own church. One of the settlers donated the site on the top of the hill for the church and cemetery, others donated money and built the church themselves. Võru and Pechory Orthodox congregations supported the undertaking as well.
The first person to be buried at Puutli cemetery was Aleksander Grihin in 1930. The hill was then bare, with just one pine growing, and he was buried at the tree. The last burial was in 2013. Every August, generations of descendants gather in Puutli to celebrate a church festival.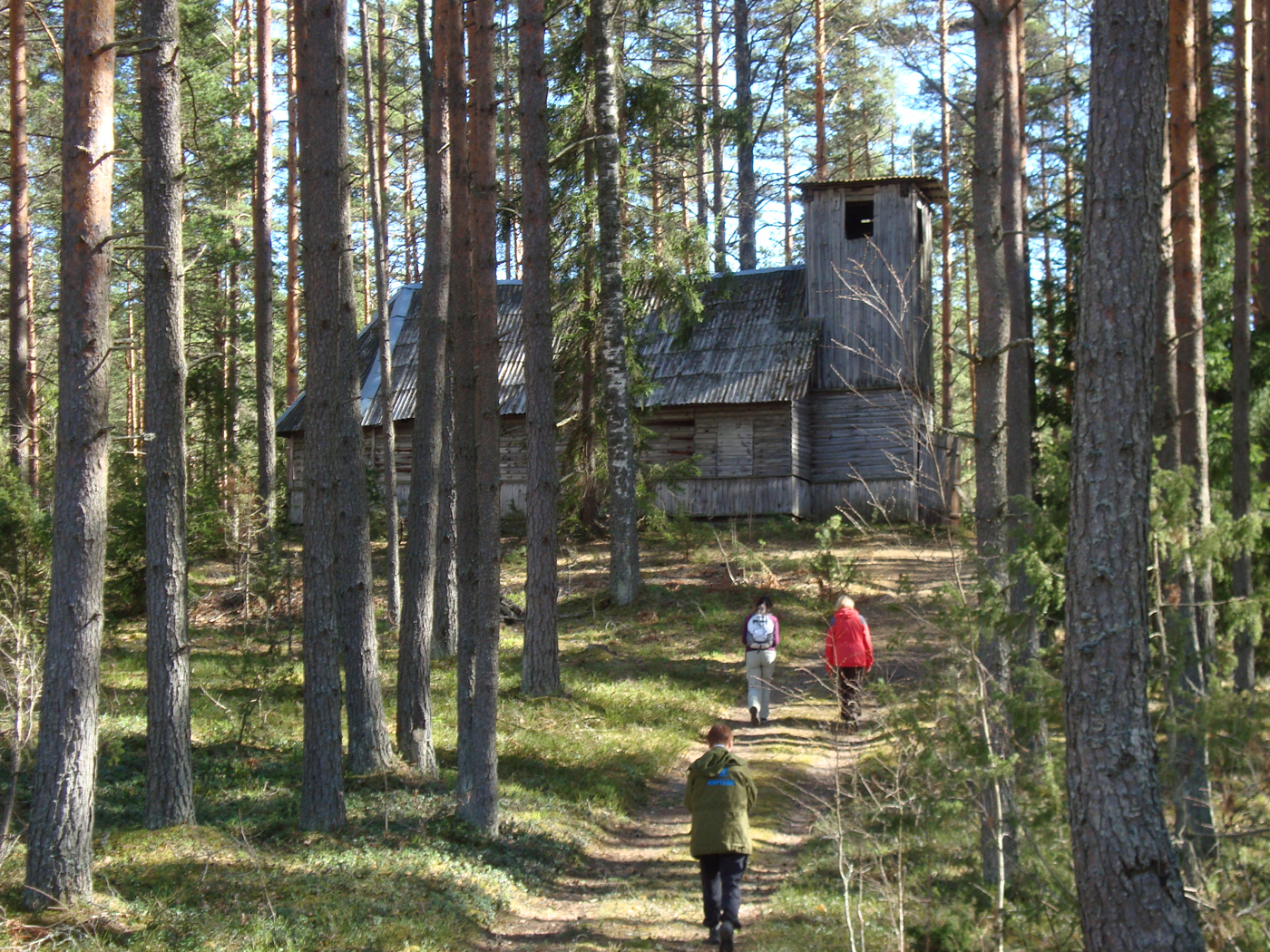 PUUTLI St NICHOLAS (Nikolaus) CHURCH was completed in 1935.
It is a wooden church, initially with a shingle roof. Its interior is richly decorated with ornaments and icons. The Puutli Orthodox church was active until the early years of World War II, and later a priest came from another place to conduct a service.
This church, hidden away in Puutlipalu forest, is certainly worth a visit.

Valdur Raudvassar describes his encounter with the church as follows:
"I first visited Puutli village when I was a boy. Someone suggested we go and take look at the church. I was ready for a long journey, but after a ten-minute walk in the forest, we saw the sacred building with a sharp steeple on a hill. The door was locked and the dark windows did not reveal the inside. However, the morning sun lit up the space behind the altar, and we could see a crucified, life-size Christ on the wall, with bleeding wounds. I did not think that this was the first time in my life to see an oil painting. I just thought that God was here as well, in the most ordinary pine forest in Võru County."

We felt exactly the same when we stood by the church for the first time, on a sunny day in May in 2011. Another moving place on our pilgrimage route.

The years had done its work, the congregation was scattered, the church fell into disrepair, its interior has been looted. A holy atmosphere, however, is still there. The forest has moved in around the church, which stands there in the quiet light falling between pine trees. Like as secret.
It cannot be easily found. We asked local people about the church and how to get there, but they all thought we were not going to find it. And indeed we would have failed if the local blacksmith Andres Kunnus had not come with us. He, in turn, was instructed on the phone by Urmas Juhkam from the Defence League.
Following various forest landmarks, trees and twists in the path we finally made it.
Using the same method (one knowledgeable man on the phone, the other in front of us) we walked a bit further in the forest and come to the Puutli bunker where eight forest guerrillas were hiding until 1953 when they were killed in battle.

Kaja Tullus and Daila Aas


http://www.eestikirik.ee/mahajaetud-kirik-puutlipalus/
http://vanaajamaja.ee/mtu-vanaajamaja/kogukonnaprojektid/puutli-kiriku-konserveerimine/