St Bridget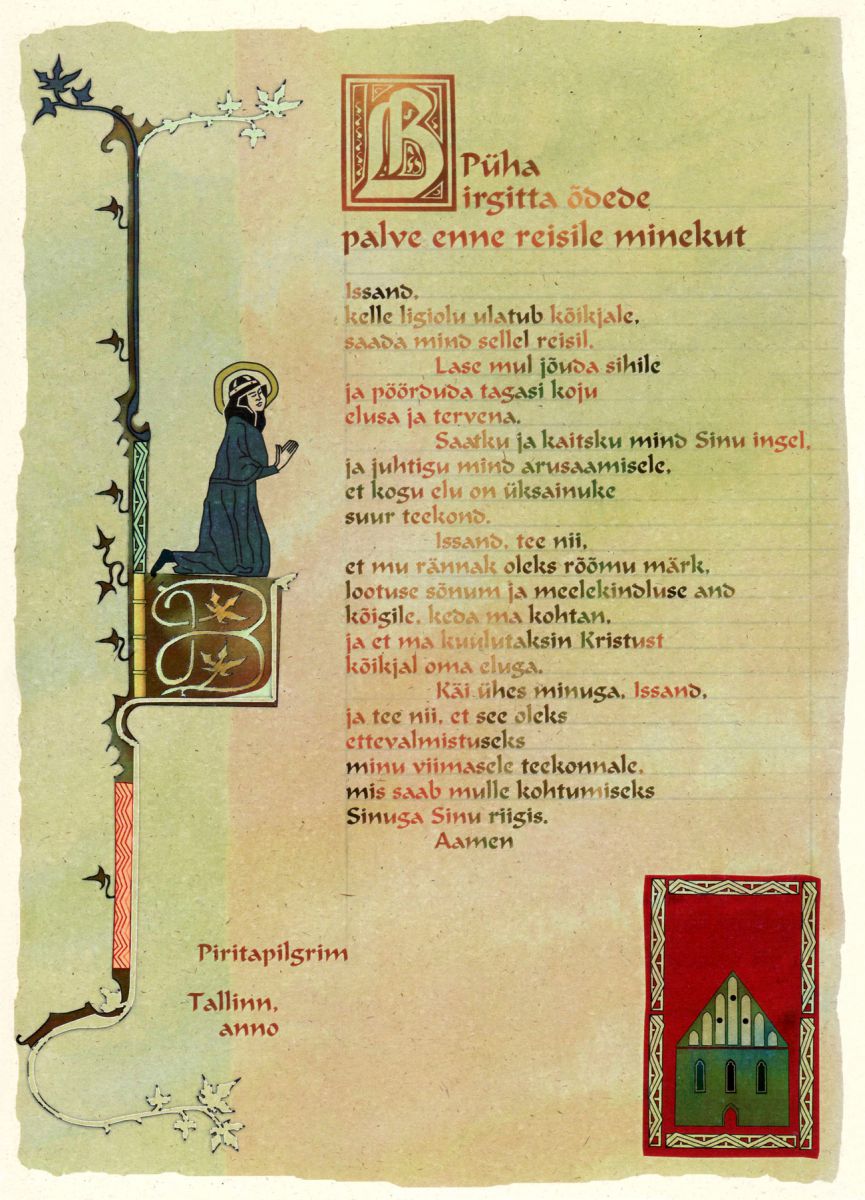 Birgitta Birgersdotter (1303–1373) was an aristocratic Swedish lady with intellectual aspirations, the lady of Ulvåsal manor and mother of eight children. She was appointed as tutor and lady-in-waiting to Queen Blanka, the young wife of King Magnus Eriksson, and godmother to their first son. After the death of her husband Ulf Gudmarsson, Bridget had a vision where she was invited to be Christ's bride and messenger of the Holy Spirit with the aim of reforming the Christians. In 1349, when she reached the conclusion that it was impossible to work as a prophet in her own land, she sold her lands and travelled to Rome with an entourage, "friends of God", and stayed there. Bridget fully devoted herself to the mission entrusted to her by Christ to establish a new monastic religious order and called the pope, the clergy and people to behave in a more ethical manner. Such prophetic activities required an ability to convey words of Christ and the Virgin Mary, received in prayer and contemplation, so that they were understandable to ordinary people and theologically acceptable to the clergy. In the course of 31 years she presented over 600 visions. As a holy woman, Bridget operated in Italy for over twenty years, achieving great acclaim as both a mystic and a prophet, despite criticism from some church people.
In 1370 Bridget managed to get a permission from the pope to found a new religious order, the Bridgettine Order of the Holy Saviour (Ordo Sancti Salvatoris; the order was later called Ordo Sanctissimi Salvatoris, i.e. the Order of the Most Holy Saviour). A mother abbey was allowed to open in Vadstena.
Bridget took part in many pilgrimages. Her role models were Swedish ladies of royal descent who had been on pilgrimages to Jerusalem and Santiago de Compostela already in the 12th and 13th centuries. In her childhood, Bridget travelled on pilgrimages, together with her parents and later as the lady of the manor, to the graves and churches of Swedish saints. According to a legend, she also went to Nidaros Cathedral (today's Trondheim) to pay respects to the relics of St Olav. In 1341–42 Bridget, her husband and entourage undertook a pilgrimage to Santiago del Compostela. She completed shorter pilgrimages also in Italy, in churches in Rome and the surrounding areas, and longer ones to Naples and nearby areas. The last pilgrimage, a year before her death, took Bridget to Jerusalem. On her travels in towns she held prophetic sermons to people, although through a priest as it was forbidden for women to speak in public.
Bridget died on 23 July 1373 in Rome. Her daughter Katarina and entourage transported the coffin with her remains to Vadstena. They arrived there in summer 1374. Brigid's remains were placed in a reliquary in the chapel. Miracles began to happen almost at once. They were all recorded as proof to the papal commission who passed decisions about sainthoods. (One miracle occurred in 1376 on the Ihasalu bay along the coast in northern Estonia. See: Ihasalu cross and prayer bench.)
Bridget's pilgrimages, sermons and visions circulating in manuscript form made her famous not only in Italy, but in the whole of Europe. Her visions were translated into Latin and gathered in eight books, another book was added later. Bridget is thus also among the first writers in Sweden.
Bridget was canonised on 7 October 1391, just 18 years after her death. Iconographically, she has been depicted in three ways: as a pilgrim, with a stick, pouch with a water bottle, coat and hat; as the founder of the monastic order – in a nun's habit, sometimes among the abbey members; as a visionary – sitting with a book and a pen, with an angel standing behind her. The book is her essential attribute as a saint.
Bridget is the patron saint of Sweden. Since 1999 she is also one of six patron saints of Europe.
Ruth Rajamaa, 2017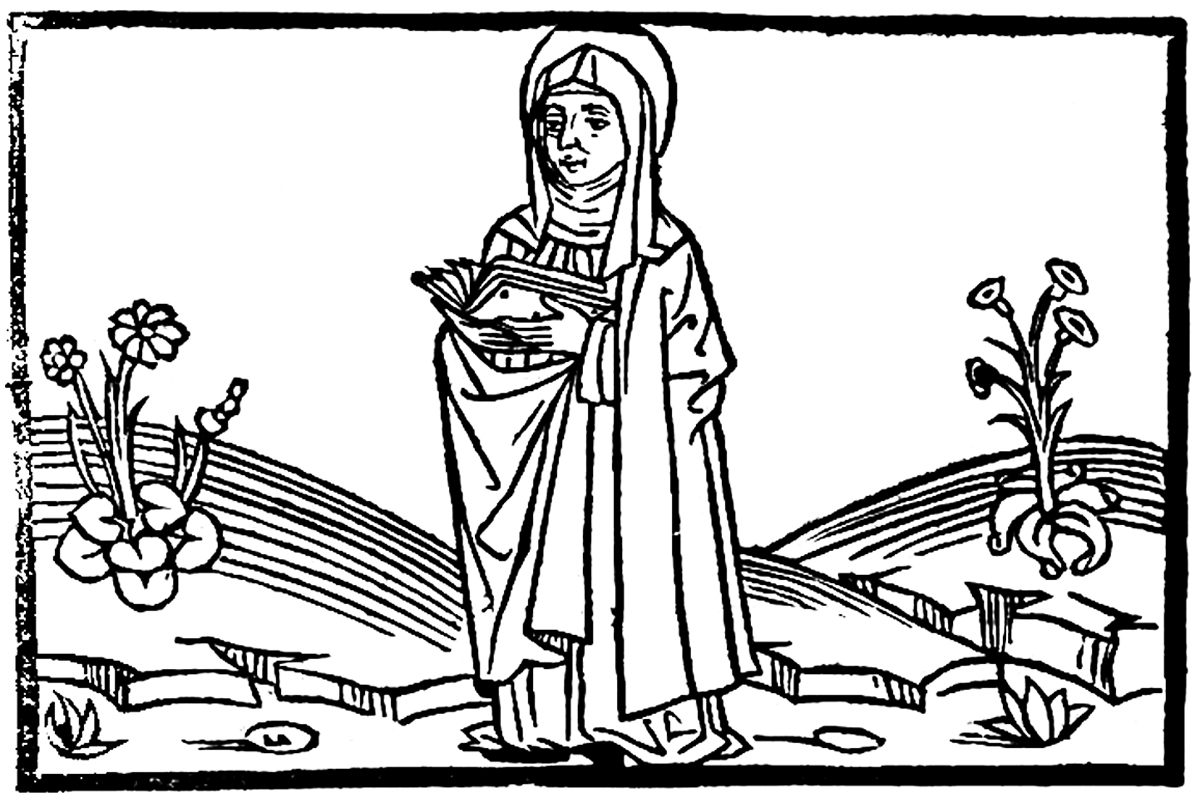 Sources